Bridal Headbands for Your Wedding
I used to think of headbands as a hair accessory made for middle
school girls or something practical to hold my hair out of my face.
during a workout. Then I first saw the adornments feature in my
wedding. The Magazine and realized that there is so much more
to these accessories than I could have ever imagined. From
simple and delicate to unique and bold, these bridal headbands
are the perfect accessory to complement any hairstyle on your
wedding day.
The best thing about wearing a headband on your wedding day
is all the different hairstyles that you can wear it with. They can
be infused into your curly haired updo like the delicate lace piece
above or simply enhance a boho chic bun (bottom, left). Whichever
style you choose, make sure that the beading or design flows well
with your dress and other accessories. The braided beauty (below,
right) is a perfect example that you don't have to choose between
a veil and a headband – you can have both!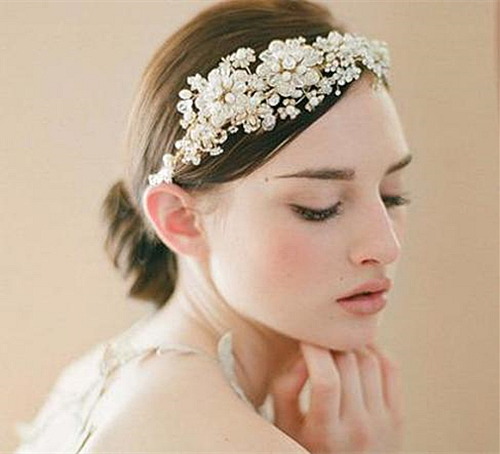 If you are a vintage bride and haven't thought of the perfect accessory
to complete your look, consider a headband! With elegant gold details
like the one above, you will be sure to glow when you walk down the
aisle. Art Deco details like the two headbands below have become very
popular for brides during the last year. The one on the bottom left is
great for brides with short hair that want to add a little extra glam to
their look and the one to the bottom right is a more modern twist on
th e classic ballerina bun. Both exude a sophisticated style while
maintaining a unique look.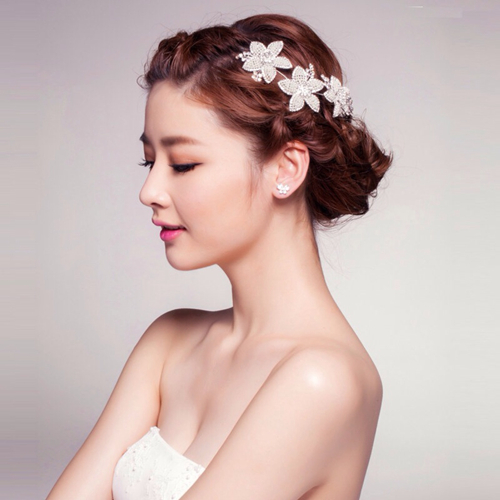 Go simple and natural with the thin, floral headband above. These
look fabulous at spring weddings and de finitely give off a garden-
esque vibe. See more inspiration for floral bridal crowns here.
For something you can wear again and again, go with a faux floral
or feather headband (above). These choices in accessories make
a bold statement and show off your unique bridal style that will be
sure to turn heads.
Speaking of turning heads, I might have saved the best for last. This
delightful gold headband below is truly stunning when paired with a
long elegant veil. I t takes the look of a modern bride to a whole
new level.
I hope that these bridal headbands have changed your mind about
the hair accessory as much as they've changed mind. Let us know
which one is your favorite in the comments below!